Top 3 Christian Books to Read
Ever had trouble finding the right book to read regarding having faith in Him and the promises He will fulfill for us? Well, look no further – here are the top 3 Christian books that will simply change your life!
1. A Lineage of Grace
Get a copy on Amazon here: https://amzn.to/3lbAU0U
A Lineage of Grace (fictionally) tells of the five women in the lineage of Jesus Christ who are described in the New Testament – they are Tamar, Rahab, Ruth, Bathsheba, and Mary. Though released back in 2002, the stories which lie within those pages still remain relevant today. Each woman faced extraordinary challenges and obstacles, and despite all odds were used in God's plan to fulfill the coming of the King. Tamar risking her life/reputation showed us how God uses our dire circumstances to fulfill His will, Rahab's faith in God displayed our reward when we reach out to Him, Ruth's loyalty (to her mother-in-law) presented God's provision when all hope seems lost, Bathsheba's calling to God after her scandal enables us to see His power of restoration for all, and Mary's obedience communicates that a simple action can change the world forever. Overall, it is a collection of novels that will appeal to people of all ages, and will truly bring to you the idea that God uses even the most unexpected people for His bountiful plans.
Get a copy on Amazon here: https://amzn.to/3lbAU0U
2. Spiritual Discipleship: Principles of Following Christ Every Believer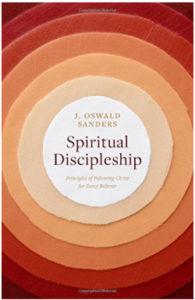 Get a copy on Amazon here: https://amzn.to/3hn0M8I
Ever wondered how you can become more spiritually fit and follow His plans for you? Ever felt Him calling you, yet you fail to understand what it means? J. Oswald Sanders goes through what Spiritual Discipleship is all about, and how daily reminders that God is always watching over you can enable you to open your eyes to what He has in store for all of us. Some specific things he covers in this book are the profile of an ideal disciple, conditions for discipleship, the tests that disciples endure, how disciples pray/grow, the posture and practices of a disciple, and so much more. Overall, this is the perfect thing to read for anyone who wishes to step further into their faith in God, and to become more like our Heavenly Father.
Get a copy on Amazon here: https://amzn.to/3hn0M8I
2. The Holy Bible
Get a copy on Amazon here: https://amzn.to/2XC0QuH
There truly is no need for an introduction to The Holy Bible – containing the Word of God, it is absolutely essential for one to read through in order to understand His teachings. This hardcover copy of the New International Version (NIV) is in a double-columned format, making it thin and easy to carry around. The cream-coloured pages add a vibrant feel to the text, coming with a satin ribbon marker and an 8-point print size. What makes this particular copy of the Bible stand out is the fact that every word of Jesus is written in red, so as to make it more convenient to look back unto what he has said. Therefore, whether it be just for leisurely reading or to study His Word, this is something that all believers and non-believers alike should get to understand more about Him and His goodness.
Get a copy on Amazon here: https://amzn.to/2XC0QuH